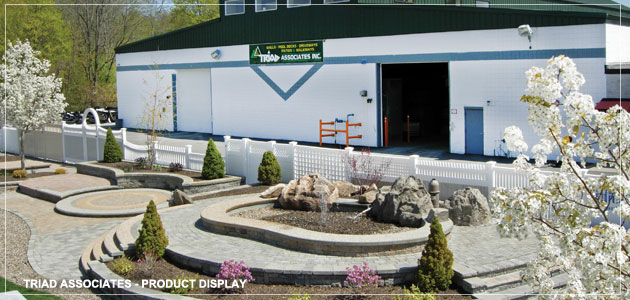 Triad Associates, Inc. has been in business since 1986 and continues to provide customers with quality craftsmanship and unparallelled attention to detail on each and every project. We hire the most experienced, talented craftsmen in the industry to ensure the job is done right and will last for years to come. Triad Associates, Inc. has the ability to follow through with any type of project you can dream up in a timely manner so you can go about your regular lifestyle without long periods of construction. Triad Associates, Inc. is located in Haverhill, Massachusetts directly off of Interstate 495. Feel free to call any time or stop in to see our display area in the front of our shop.
Why Choose Triad Associates, Inc.?
Triad has been in business since 1986
Triad is the largest installer of hardscapes in New England
Triad has earned one of the highest ratings with Dun & Bradstreet (#18-214-5698)
Triad will work with you through all phases of the project…from 3D concept to completion
Triad has been featured on "This Old House" with Bob Vila and "Breaking Ground"
Triad has a large warehouse and block yard to provide product quickly and efficiently
Triad provides a 5,000 square foot display to help customers select project materials
Triad provides over 50 custom colors of exposed aggregate, multiple patterns and colors for stamped concrete, and a full line of Techo-Bloc wall and paver products.