Triad's professional paver installation can transform your property into a masterpiece. Triad Associates, Inc. can provide you with a number of options for both paver colors and paver patterns so that you can select the pavers that will compliment your property best. Triad is a certified Techo-Bloc paver installer. Techo-Bloc produces the highest quality interlocking paver and wall systems on the market.
For a complete list of Techo-Bloc products and colors please visit:
http://www.Techo-Bloc.com
"Because we do not use a surface face mix procedure, your stones will never fade or lose their color" – Techo-Bloc
---
Choosing your paver pattern: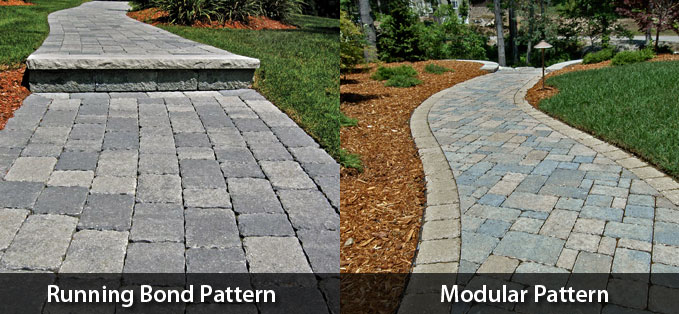 Concrete pavers come in a variety of styles and colors. A good starting point when choosing your pavers is to decide whether you want a running bond pattern (pavers are laid side by side in a linear fashion) or a modular pattern (multi-sized pavers laid in a more random pattern). The photographs above show an example of each pattern style.
Why does Triad use Techo-Bloc pavers?
Transferable lifetime warranty – Techo-Bloc Warranty (PDF)
Techo- Bloc pavers are manufactured with color through-and-through
Techo-Bloc pavers are de-icing salt resistant (guaranteed in the Techo-Bloc Warranty)
The PSI levels of Techo-Bloc pavers consistently surpass industry standards
Less breakage, so you don't have to sort through pallets and discard broken pavers
Techo-Bloc pavers, curbstones and wall stones are designed specifically to complement each other; your patio can match the wall and the wall can match the walkway and steps.
Finished Paver Projects