What is pool coping?
Pool coping is a material that is installed to finish the top edge of the pool.
Pre-cast concrete with a bull-nose front edge has been the standard pool coping for many years. Modern pool designs are making use of cantilever, bull-nose brick, and natural stone coping which come in many colors and textures. Cantilever coping (poured concrete) extends the concrete pool deck over the edge of the pool, and eliminates the maintenance of an expansion joint between the coping and pool deck. Style, cost, and maintenance are all items to consider when deciding on your pool coping. Your Triad sales representative can help guide you through the decision process and help you make an educated choice.
Pool Coping Options:


Coping Accent Option:

---
Pool Tile: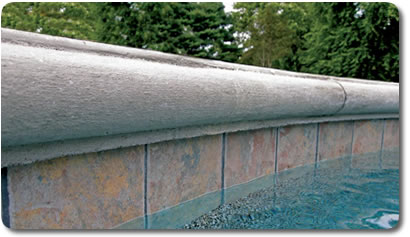 The first step in selecting your pool tile is to decide the size of the pool tile you would like to use. Typically, the pool tile is installed so that the top 6″ of the gunite pool is finished with the tile. The water level of the pool should be kept so that half of the tile is underwater. The purpose of the pool tile is to make it easier for you to clean and maintain your swimming pool and avoid a water-line ring around the top of the pool.
Pool Tile Sizes:

Example Pool Tiles:

>> Click here for a complete selection of pool tile colors and styles